Want to play? Get in touch!
If you would like to join our team next season, sign up or contact us to find out more information.
Email
joinwrfc@washingtonrugbyclub.org
Our Team Enjoys:
Fall and Spring 15's Seasons
Summer 7's Seasons
Team Happy Hours
Equipment & Facilities Provided
Post-Game Festivities
Connect with us:


The Oldest DC Rugby Club
Last year, Washington Rugby Football Club (WRFC) celebrated its 50th Anniversary. Since 1963 WRFC has furthered the sport of Rugby in the DC area through our Men's team as well as our youth program.
WRFC fields two 15s sides that play in the fall and spring and two 7s sides that play in the summer. All teams practice in DC and are open to players of every experience level. For more information visit our practice and new player pages.
Attention Prospective Players! WRFC has compiled a Jobs Database, Housing Support List, and other resources to assist new players in moving to Washington D.C. For more information and access to the database, please email vicepresident@washingtonrugbyclub.org
WRFC Whisky Tasting with The Scotch Whisky Man
May 16, 2015
Washington Rugby Football Club will be hosting a whisky tasting for players, old boys, friends, and family! All are welcome to attend. Reservations and donations for the event can be made here. Check out our facebook group for more information!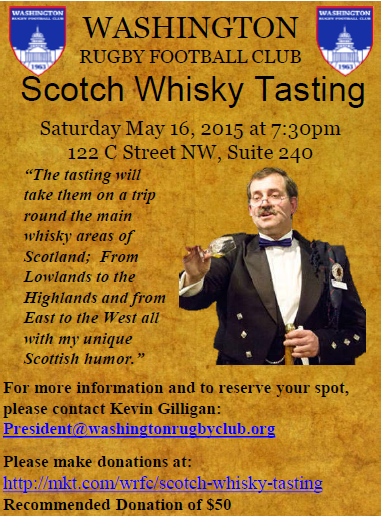 Spring Practice is HERE!!!
Join Washington Rugby Football for practice of this season starting Thursday February 19th. We will continue to update the website with inclement weather information and location changes.